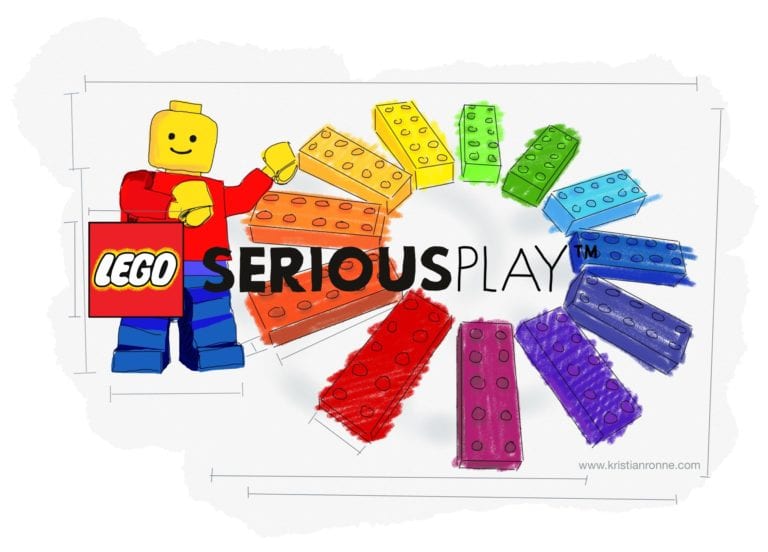 LEGO® SERIOUS PLAY® Method and resources
How LEGO® describes the method; https://www.lego.com/en-us/seriousplay
The LEGO® SERIOUS PLAY® methodology is an innovative process designed to enhance innovation and business performance. Based on research which shows that this kind of hands-on, minds-on learning produces a deeper, more meaningful understanding of the world and its possibilities, the LEGO® SERIOUS PLAY® methodology deepens the reflection process and supports an effective dialogue – for everyone in the organization.
The LEGO® SERIOUS PLAY® methodology is an innovative, experimental process designed to enhance innovation and business performance.
"You can learn more about a person in an hour of play than you can from a lifetime of conversation" Plato
Building better results
The LEGO® SERIOUS PLAY® methodology is a radical, innovative, experiential process designed to enhance business performance. It is based on the belief that everyone can contribute to the discussion, the decisions and the outcome.
The use of LEGO® elements enables you to take a speedy shortcut to the core. The LEGO elements work as a catalyst – and when used for building metaphors, they trigger processes that you probably were previously unaware of.
Workshop participants leave with skills to communicate more effectively, to engage their imagination more readily, and to approach their work with increased confidence, commitment and insight.
Essentials
The LEGO® SERIOUS PLAY® Method is a facilitated meeting, communication and problem-solving process in which participants are led through a series of questions, probing deeper and deeper into the subject. Each participant builds his or her own 3D LEGO® model in response to the facilitator´s questions using specially selected LEGO® elements. These 3D models serve as a basis for group discussion, knowledge sharing, problem solving and decision making.
The LEGO® SERIOUS PLAY® Method is a technique which improves group problem solving. By utilizing visual, auditory and kinesthetic skills, the Method requires participants to learn and listen, and it provides all participants with a voice. The Method serves as a shared language regardless of culture or position. It is also a method that requires a trained LEGO® SERIOUS PLAY® facilitator.
Increased confidence in shared goals
By using the LEGO® SERIOUS PLAY® materials and methodology you will explore the relationships and connections between people and their world, observe the dynamics both internal and external, explore various hypothetical scenarios, and gain awareness of the possibilities.
During the facilitated meeting, you will be building landscape models with LEGO elements, giving them meaning through story-making, and playing out various possible scenarios – a process which deepens understanding, sharpens insight, and socially "bonds" together the group as it "plays" together. The LEGO® SERIOUS PLAY® Methodology will guide you into a free and honest exchange of opinion. The physical and tangible construction allows you to have conversations which flow without the fear of treading on personal feelings. You will experience that the real issues are addressed, and ultimately you will be able to see things through the eyes of your colleagues – and have them view the picture through yours.

This site is currenlty best viewed on Tablet or Desktop.
* ©2020 The LEGO Group – LEGO® SERIOUS PLAY®, the Minifigure and the Brick and Knob configurations are trademarks of the LEGO® Group, which does not sponsor, authorise or endorse this website – more details here.
LEGO® SERIOUS PLAY® – Creative Commons
As of May 1st 2010 LEGO has decided to allow everyone to freely use LEGO® SERIOUS PLAY® methodology. Thanks LEGO!
Feel free to use, develop and pass it on!
Who and how is entitled to use, train, develop with LEGO® Serious Play® methodology? Very simple! Anybody is entitled to – provided that they follow the LEGO Serious Play Open-source guideline (download it below).
LEGO Serious Play Open-source document p. 4 states: "LEGO® SERIOUS PLAY® has been made available by the LEGO Group under a Creative Commons licence 'Attribution Share Alike': see https://creativecommons.org/licenses/by-sa/3.0/".
This license means that you are free to:
Share — copy and redistribute the material in any medium or format
Adapt — remix, transform, and build upon the material for any purpose, even commercially.
The licensor (LEGO) cannot revoke these freedoms as long as you follow the license terms.
You need to do this under the following terms:
Attribution — You must give appropriate credit, provide a link to the license, and indicate if changes were made. You may do so in any reasonable manner, but not in any way that suggests the licensor endorses you or your use.
ShareAlike — If you remix, transform, or build upon the material, you must distribute your contributions under the same license as the original.
No additional restrictions — You may not apply legal terms or technological measures that legally restrict others from doing anything the license permits.
It is as simple as: "1) You use, 2) you develop, 3) you pass it on to anybody else to use under the same terms."
How do you give credit to lego corporation?
Anybody can do what they like with LEGO® SERIOUS PLAY® as long as they refer to original LEGO® SERIOUS PLAY® Open-source document and give exactly the same credit for the next developers. If you are in doubt how to best formulate it, you may just use the sentence:
"This approach/application/technique/model/roadmap/case builds on LEGO® SERIOUS PLAY® Open-source guideline made available by the LEGO® Group under a Creative Commons licence. Feel free to share and use under the same licence and enjoy playing seriously with bricks!" 🙂
When you do that it is important to make a distinction to what is in the LEGO® SERIOUS PLAY® Open Source Guide and what are proprietary materials. E.g. if somebody has created something, which has their original ideas and that they do not allow others to use. If you are in doubt then get in touch with the authors and make sure that you will not violate their rights nor trust.
What is included in lego serious play open source document?
The core methodology of LSP has been transcribed and made public for people and facilitators looking to benefit from utilising this method. The Open Source document aims to empower and inspire people to become familliar with the LSP method as well as open up the experience to people who previously couldn't be a part of it.
By sharing the method of LSP, LEGO hopes to will illustrate the "power of thinking through your fingers" enabling individuals to unleash insight, inspiration and imagination, in a practical and direct way. The common language – the bricks – makes everyone equal and allows all opinions and aspects to be heard. The bricks allow people to communicate thoughts and ideas in place of traditional communication methods that can be too restrictive.
Since 20 years, the LEGO® GROUP has supported the rigorous and careful development of three types of LEGO® SERIOUS PLAY® resources:
The LEGO® SERIOUS PLAY® basic principles and philosophy, upon which everything else is built;
The LEGO® SERIOUS PLAY® materials – sets of specially selected LEGO bricks and pieces;
The LEGO® SERIOUS PLAY® 'applications' – detailed roadmaps of different workshops that make use of the principles, the philosophy and the materials;
In the past all three of these were only available to trained and certified consultants. From June 2010 however, the first two of these have been made 'open source'. This document outlines the basic principles and philosophy, and the LEGO® SERIOUS PLAY® boxes (large sets of LEGO bricks and pieces) can be found here: purchase bricks.
The document does not include detailed applications, because LEGO® SERIOUS PLAY® is entering a new phase. New applications will be developed by the international community of users, and may be shared online. In this new phase welcome creative uses of the tools, and innovation in the community.
Download the lego serious play open source document
You may download below. It is a large file (pdf, 37MB) and download may take some time depending on your bandwidth: Download the LEGO SERIOUS PLAY Open Source Brochure here